5 Controversial Elements Regarding the DREAM Act
The DREAM Act, if enacted, would permanently protect certain immigrants who arrived in the United States as children but are now adults – and are therefore vulnerable to deportation. The DREAM Act has quite a history in Congress (more on that later), but as of this writing, there are two versions of the original act: the Dream Act of 2021 and the Dream and Promise Act of 2021.
Both bills would provide a path to citizenship for Dreamers, while the Dream and Promise Act of 2021 would also provide a path to citizenship for beneficiaries of Temporary Protected Status and Deferred Enforced Departure (two humanitarian programs offered by the U.S. government).
5 Controversial Elements of the DREAM Act
Some people find these elements of the DREAM Act to be controversial:
Question 1: Is it cruel to deport individuals to a country where they have no recollection of living and may not even speak the language fluently?
Question 2: If at least two years of post-secondary education is required, who will pay the tuition?
Question 3: Although proponents believe that DREAMers will become productive members of society as workers and taxpayers, there are those who are against the DREAM act correct in the belief that this group (and their children) will become a drain on society and the economy?
Question 4: Does the DREAM Act merely encourage more undocumented immigrants to enter the United States, knowing that their children can gain legal residency eventually?
Question 5: Does the DREAM Act grant amnesty for undocumented immigrants?
Each of these questions are regularly argued among politicians. In fact, the Deferred Action for Childhood Arrivals has been controversial since its inception in 2012, with most of the controversy coming in along political party lines.
The vast majority of Americans (74 percent) favor legal status for people who were brought to the United States unlawfully as minors – it's generally just the politicians who disagree. The most important elements of the act involve:
Temporary legal status for people who grew up in the U.S. after being born in other countries
Eligibility for U.S. citizenship for people affected by the DREAM Act
Ability to serve in the U.S. Armed Forces after being brought to the U.S. as a child
Elimination of a federal provision that penalizes states for providing in-state tuition to undocumented immigrants
Qualification for a green card for people who came to the U.S. at the age of 15 or younger, at least five years prior to the bill's enactment and who have maintained good moral character since entering the U.S., provided that they graduate from a U.S. high school, earn a GED, or are accepted to college
Although you may not find any of those things controversial – most people don't – there have been major disputes over them in Congress since the DREAM Act was introduced (and then again when DACA was introduced).
DACA and DREAM Act History
The DREAM Act debate has been present in the United States Congress since 2001. While considered bipartisan legislature, Congress titled the legislation the Development, Relief, and Education of Alien Minors (hence the title DREAM).
The bill has been discussed, proposed, and reintroduced several times, but it has never achieved the required 60 percent support in the U.S. Senate to become law. The debate continues.
In 2012, President Barack Obama introduced a policy known as Deferred Action for Childhood Arrivals, or DACA. This action allowed approximately 800,000 undocumented aliens who had come into the United States as children to avoid deportation. These individuals are permitted to legally work, attend school, and join the military as long as they commit no crimes. They may renew their DACA status every two years.
In September 2017, the Trump Administration announced that it would end the DACA policy in six months if Congress did not institute a permanent solution.
In January 2018, a federal judge ruled that the Trump Administration's reverse of the DACA policy was vague and unenforceable. This action is believed to allow individuals with current DACA permits to renew in the meantime.
As a result, on January 15, 2018, the administration announced that existing DACA applicants would be able to renew. However, at that time, it also prevented new applicants from participating in the program.
This happened despite the fact that members of both political parties supported consideration for allowing DREAMers to remain in the country under certain conditions.
In December 2020, a U.S. district court in the Eastern District of New York ordered U.S. Citizenship and Immigration Services to accept initial DACA applications (those that come from first-time applicants), DACA renewal requests, and applications of advance parole from DACA recipients. USCIS extended deferred action for many people and extended employment authorization documents, as well.
Most recently, on July 16th 2021, a federal judge in Houston declared DACA to be illegal, 9 years after it was first implemented. This decision does not affect current DACA holders or renewals. It just stops USCIS from granting new DACA protections. If you are not currently protected by DACA and are eligble, still apply! USCIS has stated that they are committed to fighting this ruling and new DACA applications could encourage USCIS to continue the fight.
Who Are the DREAMers?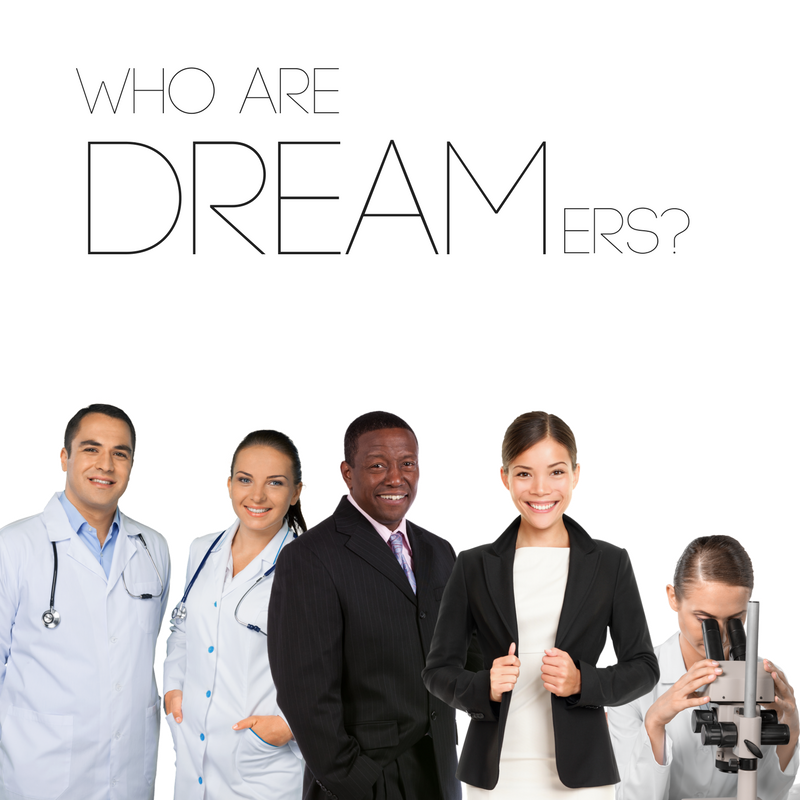 DREAMers are individuals who were brought illegally into the United States as minors by their parents and have since remained. Though new legislation may change these, DREAMers are currently defined as individuals who:
Arrived in the United States before age 16
Would be under the age of 35 (under 30 when Homeland Security enacted the DACA policy in 2012)
Have lived in the United States for at least five years
Will obtain a U.S. high school diploma or equivalent
Has maintained good moral character
The highest number of individuals are from Mexico, followed by El Salvador, Guatemala and Honduras.
Requesting DACA
Currently, the program available to help DREAMers is the Deferred Action for Childhood Arrivals program, or DACA. A person may request protection under DACA if they:
Were under the age of 31 as of June 15, 2012
Arrived in the U.S. before reaching their 16th birthday
Have continuously resided in the United States since June 15, 2007, up to the present time
Were physically present in the United States on June 15, 2012, and at the time of making their request for consideration of deferred action with USCIS
Had no lawful status on June 15, 2012 (which means they never had a lawful immigration status on or before that date, or any lawful immigration status or parole that they had obtained prior to that date had expired by that date)
Are currently in school, or have graduated or obtained a certificate of completion from high school, have gotten a GED certificate, or are an honorably discharged veteran of the Coast Guard or Armed Forces of the United States
Have not been convicted of a felony, significant misdemeanor, or three or more other misdemeanors
Do not pose a threat to national security or public safety
What Would The DREAM Act Do?
Once qualified DREAMers are permitted to remain in the United States, they may be granted conditional permanent resident status. At that point, each will be expected to complete high school and at least two years of post-secondary education or trade school or serve on active-duty military status for at least two years.
Some sources estimate the number of individuals in this category to be as many as 2.1 million of an estimated 11 million undocumented immigrants. However, the number may be significantly reduced because those with poor English skills and little or no academic achievement may not qualify.
Addressing the Two Bills in Congress
The two different bills – the Dream Act of 2021 and the Dream and Promise Act of 2021, would offer different types of protection, which are outlined in the chart below.
Eligibility
The Dream Act of 2021
The Dream and Promise Act of 2021
Age of arrival
17 years old or younger
18 years old or younger
Must be continuously physically present in the U.S. since…
4 years before bill enactment
January 1, 2021
Period of conditional permanent residence
8 years
10 years
Disqualifying criminal history
Aggravated felonies

Crimes involving moral turpitude

Drug-related offenses

Crimes with a maximum term of imprisonment of more than one year

Three or more offenses resulting in imprisonment for an aggregate of 90 days or more

Aggravated felonies

Crimes involving moral turpitude

Drug-related offenses

Any felonies

Three or more misdemeanors

Domestic violence

Exceptions
Crimes related to a lack of immigration status
Crimes related to a lack of immigration status

Minor traffic offenses

Certain marijuana-related crimes

Nonviolent civil disobedience

Domestic violence related to the applicant being the victim of certain types of violence
Contact Davis & Associates Immigration Lawyers
The path to legal residency for DREAMers remains uncertain. In spite of support from legislators of both political parties, Congress may still not have enough votes to pass either DREAM Act in the coming months.
The best advice is to consult with an immigration lawyer regarding alternatives. Other remedies to continue your residency legally may be available.
An experienced and award-winning immigration law firm like Davis & Associates in Dallas stays on top of all developments in the field and offers a free initial consultation to discuss your situation.
Visit the Davis & Associates website to learn more about the firm and current issues surrounding immigration law.
Davis & Associates offers a free consultation to discuss your circumstances and your legal rights. Call to schedule your free consultation at 214-628-9888.
---
About Davis & Associates:
Davis & Associates is the immigration law firm of choice in Houston & North Texas including Dallas, Fort Worth, Plano, Frisco, McKinney and surrounding areas. Their attorneys provide expert legal counsel for all aspects of immigration law, including deportation defense, writs of habeas corpus and mandamus, family-sponsored immigration, employment-sponsored immigration, investment immigration, employer compliance, temporary visas for work and college, permanent residence, naturalization, consular visa processing, waivers, and appeals. Attorney Garry L. Davis is Board Certified in Immigration and Nationality Law by the Texas Board of Legal Specialization.
Dallas Contact Info:                                                                                                                                                                                             
Address: 17750 Preston Road Dallas, TX 75252                          
Phone: (469)957-0508                                                                       
Houston Contact Info:                                                                                                                                                        Address: 6220 Westpark Dr, Suite 110, Houston, TX 77057
Phone: (832) 742-0066