6 Ways To Stop Deportation
6 Ways To Build A Strong Deportation Defense Case
The threat of deportation or removal from the United States is growing. Stricter enforcement by Immigration and Customs Enforcement (ICE) to seek out undocumented residents and expanded authority in states like Texas have caused many to be concerned about their future.
The uncertain future of DACA, Deferred Action for Childhood Arrivals, is also creating concern among many who previously felt secure but may be faced with removal to a country in which they are not familiar.
Deportation proceedings can be incredibly confusing – and because you have no idea how an immigration judge will rule, they're often scary, too. For most people, it makes sense to work with a deportation defense attorney who can help.
What Is Deportation?
Deportation Immigration Law is the formal removal of a foreign national who may have violated immigration laws.
Deportation of individuals already living in the United States rose almost 25%, from 65,332 in 2016 to 81,603 in 2017. With added authority created by the 2017 passage of SB-4 legislation, the potential for more people to be challenged with deportation will increase. 
Deportation: When Can Legal Residents Face Removal Proceedings?
Individuals most at risk for removal are those who arrived without legal travel authorization
Or used forged documents to enter.
But there are several reasons that the U.S. government can use to deport someone who's lawfully present in the country. Generally, a person is deportable from the United States if he or she:
Was inadmissible when entering the country or when adjusting an immigration status
Violated the terms of a visa, green card or other status
Had conditional permanent resident status, but that status was terminated
Helped smuggle an alien into the U.S.
Committed marriage fraud
Got married and divorced (or had the marriage annulled) within a certain time frame
Was convicted of one or more crimes involving moral turpitude
Has been convicted of domestic violence, stalking, child neglect or abuse, or child abandonment at any time after being admitted to the U.S.
There are several other reasons the U.S. government may choose to deport someone, as well, so if you're facing removal proceedings, it's typically best to talk to an attorney as soon as possible.
Deportation Process: Expedited Removal
For foreign nationals challenged with trying to enter the United States without travel documents or with forged documents, removal does not require an immigration court hearing. The officer at the border checkpoint, airport, or shipping port may elect to reject entry and order immediate removal.
These individuals may not re-enter the United States for at least five years.
Exceptions may be considered in two different circumstances:
Fearing a return because of a threat to personal safety may justify requesting asylum. In this case, the individual may be allowed to speak with an Asylum officer for further consideration.
Claiming lawful status like citizenship, legal permanent residency, asylum, or refugee status may warrant consideration. In these cases, an immigration judge reviews the value of the claim.
Deportation Process: Removal
For those living in the United States who are suspected of having arrived with improper documentation, have been convicted of crimes, are found to be a threat, or violated a legally issued visa, the process for deportation involves more. Even a naturalized citizen may be subject to removal if the individual is found to have presented false information when securing their green card.
The removal process could result from an arrest for not having proper documentation. These searches often occur in workplaces.
Or, if you applied for a family or work-related green card or asylum but were rejected, you could be ordered to appear in immigration court to plead your case. Working with a Certified Immigration Lawyer will improve your chance of success.
If you do not appear before the court as scheduled, an order for removal or deportation will be issued automatically.
How to Stop Deportation
During a removal procedure, the key objective will be to show that you have legal grounds to remain in the United States.
The Immigration and Nationality Act (INA) permits immigration judges to waive elimination or deportation of immigrants so long as particular conditions are fulfilled.
When faced with the possibility of deportation or order for removal, consulting with a qualified immigration lawyer to discuss your situation is essential. Deportation attorneys provide aid and proficiency in the removal procedures by submitting all documents and supplying the essential proof of the candidate's qualifications. Since courts do not provide a defense attorney, you should look for one. With a free first-time consultation, the award-winning immigration law firm, Davis & Associates, is experienced at handling removal-related matters.
Noted below are 6 methods which the deportation of an immigrant might be stopped.
Apply for Adjustment of Status
There are a few cases when someone who has been placed in removal proceedings would be eligible to apply  or adjustment of status to become a lawful permanent resident with a petition by a relative (I-130) who is already a citizen or green card holder. This is usually due to the person not realizing they were eligible before consulting with an immigration lawyer, due to a recent marriage or by the current "priority date." It's important to consult with a seasoned immigration lawyer to develop a greater understanding of the process and your situation.
Cancellation Of Removal And 212(C) Waivers
If you're a lawful permanent resident of the U.S., you could be eligible for cancellation of removal. That means you could ask the court for relief from deportation proceedings and to allow you to keep your green card. However, not everyone is eligible for cancellation of removal.
Immigrants who have committed small offenses and can reveal that their good behavior outweighs any criminal offenses, can request to get a waiver of removal or deportation.
In order to qualify, the cancellation of removal applicant needs to have been an LPR in the U.S. for at least 5 years and have continually resided in the U.S. for at least 7 years after being admitted. . You must not have been convicted of an aggravated felony, and you must not have received a cancellation of removal in the past. With your attorney's help, you must also prove that you deserve to win your case and hang on to your green card.
A 212(c) waiver might apply to an immigrant who has an older conviction that happened prior to April 24, 1996. In order to receive a 212(c) waiver, the candidate needs to be a legal long-term citizen, should have resided in the United States for a minimum of 7 years, and need to not have actually served longer than 5 years for an aggravated felony.
When looking for cancellation of removal or waiver, the candidate can reveal evidence of excellent character through work history, length of time in U.S., household ties, payment of income taxes, and so on.
Cancellation Or Removal For Non-Permanent Residents
If the candidate has never had a green card, he can still ask for a cancellation of removal. An immigration judge can cancel the removal or deportation of the non-permanent citizen and issue a green card.
The cancellation of the deportation can be issued if the immigrant can prove: residency in the United States for a minimum of 10 years, ethical characteristics, no deportable criminal offenses, and deportation would trigger uncommon difficulty for an American relative, typically children.
Political Asylum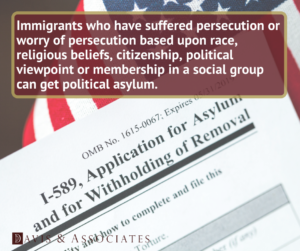 Immigrants who have actually suffered persecution or have worry of persecution based upon race, religious beliefs, citizenship, political viewpoint or membership in a social group can get political asylum. Immigrants need to apply within one year of arriving in the United States and can consist of a partner and kids who are single and under the age of 21.
U-Visa
The U-Visa can be given to immigrant victims of violence who have suffered psychological or physical abuse and want to work with police in the examination and prosecution of criminal activity. The U visa stops deportation and leads to a green card eventually. The function of the U-visa is to assist police examine and prosecute criminal activity while helping the victims who are willing to assist with the investigation.
Voluntary Departure
The candidate might ask for voluntary departure to prevent deportation. The value of this decision is that there will not be a formal removal action on your record. This makes it much easier to go back to the United States lawfully in the future. You must, however, actually leave within the allotted time or face a fine and a 10-year bar to returning.
The court might give voluntary departure if the candidate can reveal: physical residence in the United States for a minimum of one year; excellent ethical character for a minimum of 5 years; not removable for aggravated felony or terrorism; can pay your way back to your nation of origin; can post your departure bond and have not gotten voluntary departure prior to after remaining in the United States without admission or parole. Many criminal convictions make it hard to get a voluntary departure.
Is An Immigration Judge's Decision Really Final?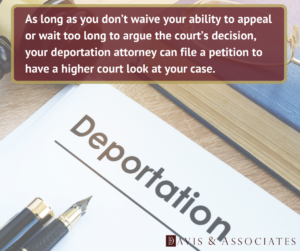 Unfortunately, there's no way to predict how an immigration judge will rule in a case – but the good news is that if the judge in your case makes a decision you don't agree with, you may be able to appeal it. As long as you don't waive your ability to appeal or wait too long to argue the court's decision, your deportation attorney can file a petition to have a higher court look at your case. The process requires submitting an appeal to the AAO (Administrative Appeals Office). Sometimes, the higher court reverses the immigration judge's decision. Since some appeals fall under the jurisdiction of the Board of Immigration Appeals, it is important to work closely with an experienced immigration lawyer before proceeding.
5 Things You Should Know About Deportation Defense
Here in the United States, residents are accustomed to specific civil liberties. Nonetheless, if you are an immigrant encountering deportation, those civil liberties could not apply to you or they might apply only under particular adjustments. It's important to know what rights you have as an immigrant. Here are the five things you should know when facing deportation.
You Have The Right To A Hearing.
When a notification to show up in deportation procedures has actually been served, an individual could not simply be deported. Frequently, notifications, as well as rejections of green cards, have language that states something like "you have thirty days to leave or face deportation." Those notifications cannot discuss the right to a hearing.
You Have The Right To A Lawyer.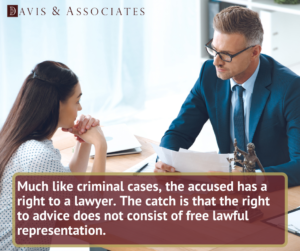 Much like criminal cases, the accused has a right to a lawyer. The catch is that the right to advice does not consist of free lawful representation. You will certainly have to locate a legal representative as well as retain solutions for lawful protection by yourself.
You Have A Right To Be Understood.
The court will offer an interpreter in any kind of language for any individual on trial or witnesses whose mother tongue is not English. Also if the accused speaks English, a court intends to see to it that the accused could vocally share themselves as plainly as they can and also leave no space for mistake. It is a sensible choice to work with a lawyer that can communicate in your language.
The Procedure Is Complex.
No matter the particular situation, immigration is complex. Several lawyers state that next to tax obligation regulation, immigration legislation is one of the most intricate. When it pertains to deportation defense, it is usually a lot more complex compared to various other components of immigration regulation.
Do Your Research When Employing A Lawyer.
Working with a lawyer that promotes that they "do immigration cases" is not all the investigation that needs to be done. Anybody could claim that they do any kind of situation. Nevertheless, having a competent and fluent lawyer in deportation defense in particular is likely to make the procedure go far more efficiently.
Do You Need To Talk To A Lawyer About Deportation Defense?
Deportation can be a devastating experience for individuals and families. If you're facing removal proceedings, there's hope – and we may be able to help you with your deportation case. The lawyers at Davis & Associates are the best immigration lawyers in Texas.
Davis & Associates are devoted deportation legal representatives with several years of experience and understanding with removal procedures and appeals. Our team respects you as well as your family and also will offer you the specialty you require. Our goal is to offer the absolute most competent advice offered at the very best cost.
Call us today to schedule a free consultation with a deportation defense attorney who can answer your questions and help you start moving forward.