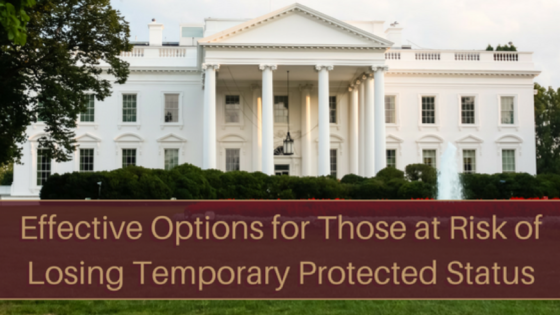 Effective Options for Those at Risk of Losing Temporary Protected Status (TPS)
In the current environment, any topic associated with immigration, citizenship, permanent residency, quotas, temporary protected status (TPS) or visas in the United States is likely being considered for review.
Government bodies, as well as law enforcement agencies in many states, are considering a different approach to addressing immigration matters. Individuals who may be affected by changing attitudes should always remain informed and seek legal advice from a certified immigration lawyer.
Temporary Protected Status (TPS) was developed to protect individuals in the United States whose return to their home country may be considered dangerous. As the name suggests, this category was intended to be for a limited time before the individual is assigned another status in the United States or returns to their country of origin.
A 2015 report by the Center for Immigration Studies reported that approximately 330,000 residents re-registered for TPS status at that time. The article further suggests that many of the previous designers had remained in the United States with upgraded immigration or resident classifications, migrated to other countries, returned home, or became illegal aliens within the United States.
[youtube https://www.youtube.com/watch?v=XycItgNeqTM?rel=0]
What is Temporary Protected Status?
According to the USCIS (United States Citizenship and Immigration Service), TPS is granted to temporarily protect individuals who have emigrated from countries where:
An ongoing and persistent armed conflict is occurring
A disaster or epidemic may be present
Other extraordinary conditions exist
During the designated period of protection, individuals will not be subject to removal and will be authorized to work and travel within the United States.
Individuals who have received Temporary Protected Status may choose to apply or file for one of the following categories during their designated TPS period:
Non-immigrant status
Adjustment of status based on an immigrant petition
Any immigrant benefits to which you may be eligible
There are specific requirements to be eligible for TPS, mostly related to your continuous physical presence in the United States since the date specified for your country.
You do not qualify for Temporary Protected Status if you:
Have been convicted of a felony or two or more misdemeanors
Are otherwise inadmissible as an immigrant
Have participated in a known terrorist group
Have not met the continuous residence requirements
For more information regarding the requirements of TPS, consult with a local immigration lawyer in your area. In Dallas, contact the experienced and award-winning immigration law firm of Davis & Associates for your free consultation to discuss your circumstances.
Nations Recently Designated for Temporary Protected Status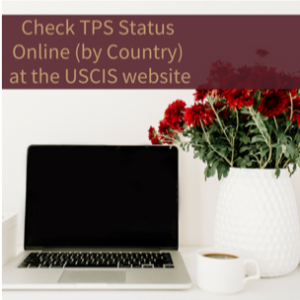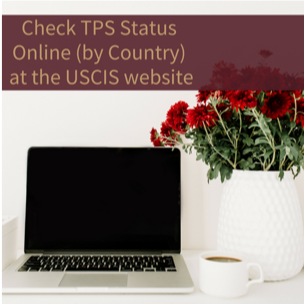 According to the USCIS website, the list of countries that have been designated TPS nations are:
However, the situation is changing rapidly and some of these countries may no longer be TPS-qualified. It is essential to discuss the specific details and current TPS status with a knowledgeable immigration lawyer.
In any case, circumstances are changing, and several TPS expiration dates may not be extended or could be canceled. Temporary Protected Status recipients need to be prepared for sudden changes in their status.
TPS Designations are Changing Rapidly
Dates move, and designations change. Anyone with Temporary Protected Status must stay well-informed of any changes in TPS designations and mandatory re-registration periods.
In January 2018, the Department of Homeland Security announced the termination of El Salvador's TPS Status, effective September 9, 2019.
Subsequently, the president announced that Temporary Protection Status for citizens of Haiti would end as of July 2019. Later, he announced TPS status for Nicaragua, Sudan, and Honduras would also be terminated.
Syria is still designated by USCIS as a TPS country until September 30, 2019. After that, the situation is cloudy. Current Syrian TPS-status holders are required to re-register between March 5 and May 4, 2018. Missing the registration deadline can jeopardize their status.
Legal Challenges to the Cancellation of TPS
Some people from El Salvador, Nicaragua, Haiti and Sudan who are now affected by President Trump's cancellations of TPS have filed a class-action lawsuit to remain in the United States. According to a February Washington Post article, the suit seeks leniency from federal immigration officials to allow eligible TPS grantees to uniformly seek green cards and work visas anywhere in the country as they can in some individual districts of the United States.
Contact Davis & Associates Immigration Law Firm
In any case, relying on a certified immigration lawyer like Davis & Associates in Dallas to keep current with your situation is essential. Learn more about current immigration issues and possible strategies by visiting the immigration law articles available on the Davis & Associates website, or set up a free immigration consultation.
For a free legal consultation, call Davis & Associates to schedule an appointment to discuss a strategy to protect yourself and family as these situations continue to develop.
Phone (214)-628-9888 for your free consultation.
About Davis & Associates:
Davis & Associates is the immigration law firm of choice in North Texas including Dallas, Fort Worth, Plano, Frisco, McKinney and surrounding areas. Their attorneys provide expert legal counsel for all aspects of immigration law, including deportation defense, writs of habeas corpus and mandamus, family-sponsored immigration, employment-sponsored immigration, investment immigration, employer compliance, temporary visas for work and college, permanent residence, naturalization, consular visa processing, waivers, and appeals. Attorney Garry L. Davis is Board Certified in Immigration and Nationality Law by the Texas Board of Legal Specialization.