Effective Options for Those at Risk of Losing Temporary Protected Status (TPS)
Government bodies, as well as law enforcement agencies in many states, are considering a different approach to addressing immigration matters. Individuals who may be affected by changing attitudes should always remain informed and seek legal advice from a certified immigration lawyer.
Temporary Protected Status (TPS) was developed to protect individuals in the United States whose return to their home country may be considered dangerous. As the name suggests, this category was intended to be for a limited time before the individual is assigned another status in the United States or returns to their country of origin.
What Is Temporary Protected Status?
According to USCIS (United States Citizenship and Immigration Services), TPS is granted to temporarily protect individuals who have emigrated from countries where:
An ongoing and persistent armed conflict is occurring
A disaster or epidemic may be present
Extraordinary conditions exist
During the designated period of protection, individuals will not be subject to removal and will be authorized to work and travel within the United States.
There are specific requirements to be eligible for TPS, mostly related to your continuous physical presence in the United States since the TPS designation date specified for your country.
You do not qualify for temporary protected status if you:
Have been convicted of a felony or two or more misdemeanors
Are otherwise inadmissible as an immigrant
Have participated in a known terrorist group
Have not met the continuous residence requirements
For more information regarding the requirements of TPS, consult with a local immigration lawyer in your area. In Dallas, contact the experienced and award-winning immigration law firm of Davis & Associates for your free consultation to discuss your circumstances.
Nations Currently Designated For Temporary Protected Status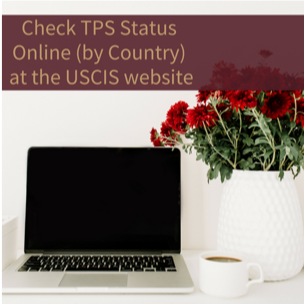 Currently, USCIS has designated 16 countries as TPS nations. They are:.
However, the circumstances surrounding a country's TPS designation constantly evolve, and countries may be removed or added to this list. It is essential to discuss specific details and current TPS status with a knowledgeable immigration lawyer.
As circumstances change, a country's TPS expiration date may not be extended, or it could be canceled. Conversely, expiration dates for certain countries may be extended. Temporary protected status recipients need to be prepared for sudden changes in their status.
Avoiding Losing TPS Status During Re-Registration
When re-registering for TPS, it's important to do so only after re-registration begins for your specific country. It's also crucial that you re-register within the specified window. Missing the deadline can jeopardize your TPS status.
Avoiding Losing TPS Status Through Unauthorized Travel
If you're a TPS beneficiary and you want to travel outside of the U.S., you'll need to get prior permission from DHS. To do so, you must apply for travel authorization. If your application is approved, USCIS will provide you with Form I-512T, Authorization for Travel by a Noncitizen to the United States. This will be proof that you've got authorization from DHS to travel abroad and be readmitted to the U.S. under TPS.
If you've applied for TPS and your case is still being decided by USCIS, but you want to travel outside the U.S. in the meantime, you'll need to apply for advance parole. If your application for advance parole is approved, USCIS will issue you an Advance Parole Document (APD) as proof that you have approval from DHS to travel outside the country.
TPS beneficiaries who travel abroad without travel authorization could lose their TPS status, and they may be unable to reenter the U.S. Similarly, individuals with pending applications for TPS who leave the U.S. without an advance parole document may have their applications denied by USCIS and be unable to reenter the U.S.
In order to apply for travel authorization or for an advance parole document, you'll have to file Form I-131, Application for Travel Document, with USCIS. If understanding how to manage this process seems a bit confusing, don't worry. It may be best for you to consult an immigration attorney who can provide you with the legal guidance you need.
Options for Those at Risk of Losing Temporary Protected Status
Due to the temporary nature of Temporary Protected Status, there may come a time when your country is removed from the TPS designations list. For many people who have Temporary Protected Status (TPS), their home country being removed from the list can be a gut-wrenching experience. Fortunately, there are options available to enable them to stay in the US. If you wish to stay in the United States, you will have to apply or file for one of the following categories while your TPS designation is still valid:
Non-immigrant status
Adjustment of status based on an immigrant petition
Any immigrant benefits for which they may be eligible
Non-Immigrant Status
Non-immigrant status allows individuals to stay for a specific period of time under certain conditions. Depending on their individual situation, there are several types of non-immigrant visas people can apply for, including student visas, tourist visas, and work visas. Applying for non-immigrant status requires filling out an application form and providing supporting documentation. The process can be complicated, so it's important to consult with an experienced immigration attorney who can help guide you through the process and make sure you comply with all the necessary requirements.
Adjustment of Status To Permanent Residency
For individuals with Temporary Protected Status (TPS) whose country is being removed and who wish to remain in the United States, hope may lie in applying for adjustment of status. This adjustment would allow them to become permanent residents and stay in the US for an indefinitely. TPS beneficiaries may be eligible for adjustment of status if they have been continuously present in the US for at least ten years, have a qualifying family member that is a green card holder or U.S. citizen, or be in a certain occupational category that can be sponsored by an employer. They must also have good moral character and are not inadmissible for any reason.
While navigating the legal process of adjustment of status can be complex, for those facing the prospect of returning to an unstable or dangerous situation in their country of origin, it is a crucial step in securing a future in the United States. To learn more about green card eligibility you can schedule a free immigration consultation with our team.
Other Immigration Benefits
Special immigrant statuses may offer a path towards continued residency and potential citizenship. Examples of such statuses include U visas, which are intended for victims of certain crimes who are assisting law enforcement in an investigation, and T visas, which are designed for victims of human trafficking. The Violence Against Women Act (VAWA) provides protection and a pathway to citizenship for survivors of domestic violence and abuse, while asylum offers protection to individuals fleeing persecution in their home country.
To be eligible for these special immigrant statuses, applicants must meet certain criteria and requirements. While it may seem like a daunting process, there is hope for those seeking to stay in the place they have come to know as home.
Contact Davis & Associates Immigration Law Firm
In any case, relying on a certified immigration lawyer like Davis & Associates in Dallas to keep current with your situation is essential. Learn more about current immigration issues and possible strategies by visiting the immigration law articles available on the Davis & Associates website, or set up a free immigration consultation.
For a free legal consultation, call Davis & Associates to schedule an appointment to discuss a strategy to protect yourself and your family.
---
About Davis & Associates:
Davis & Associates is the immigration law firm of choice in Houston & North Texas including Dallas, Fort Worth, Plano, Frisco, McKinney and surrounding areas. Their attorneys provide expert legal counsel for all aspects of immigration law, including deportation defense, writs of habeas corpus and mandamus, family-sponsored immigration, employment-sponsored immigration, investment immigration, employer compliance, temporary visas for work and college, permanent residence, naturalization, consular visa processing, waivers, and appeals. Attorney Garry L. Davis is Board Certified in Immigration and Nationality Law by the Texas Board of Legal Specialization.
Dallas Contact Info:                                                                                                                                                                                             
Address: 17750 Preston Road Dallas, TX 75252                          
Phone: (469)957-0508                                                                       
Houston Contact Info:                                                                                                                                                        Address: 6220 Westpark Dr, Suite 110, Houston, TX 77057
Phone: (832) 742-0066