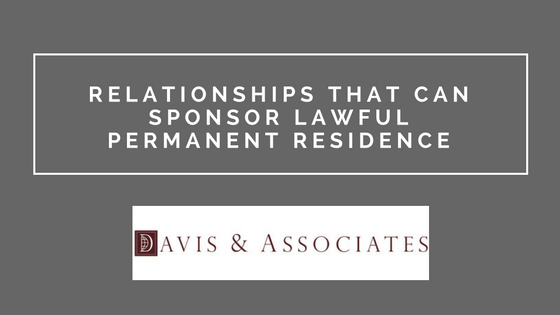 Relationships That Can Sponsor Lawful Permanent Residence
The freedoms we enjoy, the economic opportunities and the relatively peaceful and stable social situation in the United States continues to make it a prime destination for people throughout the world seek to settle here.
Another draw is family ties to the United States Only certain family relationships qualify for sponsoring family members to immigrate to the United States.
In this article, I will outline the basic structure of who has capacity under United States immigration law to immigrate family members to the United States.
United States citizens and lawful permanent residents can petition for spouses and unmarried children to immigrate to the United States to be with them.
United States citizens can also sponsor parents and siblings, as long as the sponsoring relative is at least 21. They can also sponsor married children.
Adopted children are allowed to immigrate parents or be immigrated by parents as long as the adoption meets certain requirements. For example, the United States is signatory on the Hague Adoption Convention, which must be complied with for the United States to consider the adoption to be acceptable for immigration purposes. Also, in most cases, the adoption must have become final prior to the child's 16th or 18th birthday if a sibling under age 16 has been adopted by the same family.
Stepchildren also have the capacity to sponsor or to be sponsored for immigration to the United States as long as the stepparent/stepchild relationship was created prior to the child reaching age 18.
In some situations, a prior family relationship may be sufficient for a person to become a permanent resident of the United States.
Victims of abuse at the hands of a lawful permanent resident or United States citizen spouse or parent may be able to self-petition for permanent residence under the Violence Against Woman Act (VAWA).
Also, widows and widowers of United States citizens in some situations can self-petition to become permanent residents.
Future relationships may also lead to options for immigrating to the United States.
A U.S. citizen who is engaged to be married to someone who is not a United States citizen or permanent resident already can file a petition for the fiance to come to the United States. Once the fiance has arrived in the United States, the couple has 90 days to get married.
After marriage. the fiance can complete the process of becoming a permanent resident. Unmarried children under age 21 of the fiance can accompany the parent to the United States and apply for the same permanent resident status as the parent after the marriage.
For a United States citizen or resident to sponsor qualifying family members, he or she must be domiciled in the United States, or at least be in the process of setting up domicile in the United States.
This issue can be challenging, to highlight one example, for United States citizens who have spent many years working overseas, but would like to bring a spouse or children to the United States to live and be educated. They may be frustrated in their effort if the sponsor does not have an immediate intention to relocate permanently back to the United States.
Another significant issue in family immigration is the quota system. Spouses, minor children and parents of grown United States citizens are not subject to the quotas.
The only delay in immigrating one of these relationships is processing time with the various offices of the government involved in the case. Every other relationship, including spouses and minor children of permanent residents, has an annual quota.
Currently. the wait for a permanent resident to immigrate a spouse or minor unmarried child is a little less than two years. Other relationships are much worse.
Siblings of United States citizens typically would wait about 12-13 years for a visa to become available. For married children of United States citizens, the normal wait is just a little less, about 11-12 years.
Unmarried children over age 20 of United States citizens and permanent residents generally wait about seven years. However, there is a wrinkle. The law restricts any one country from taking more than 7 percent of the total quota for each category, resulting in a potential additional quota for people born in certain countries.
Citizens and permanent residents whose grown children were born in Mexico will wait over 20 years in the quota before they reach their turns. United States citizens with siblings born in the Philippines will wait about 23 years to get through the quota.
Despite the long wait times in some situations, I strongly encourage all United States citizens and residents to find a family immigration attorney and file petitions for their qualifying relatives.
It amazes me how frequently long-time United States citizens didn't file because of the wait times in the quotas and yet, their relatives would be here by now had they started when they could have.
Garry L. Davis, managing attorney for Davis & Associates, a boutique immigration law firm, graduated from the University of Texas School of Law and Brigham Young University. Board certified in immigration and nationality law by the Texas Board of Legal Specialization, he has been selected as a Texas Super Lawyer and for Best Lawyers in America. He served the American Immigration Lawyers Association as the Dallas immigration court liaison and as program co-director for a Texas chapter CLE conference held in Mexico. He has frequently spoken on immigration issues by various organizations.
For more information about family immigration, call us at 1 (800) 962-5286.