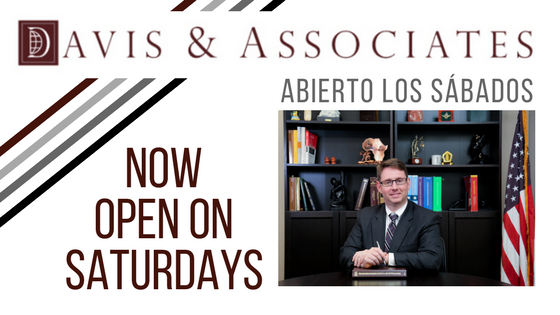 Davis and Associates, a North Texas Business and Family Immigration Law Firm, is Now Open All Day Saturdays
Davis & Associates, a Dallas, Texas based immigration law firm, services families and businesses in North Texas needing immigration law assistance is now open on Saturdays.
We recognize that some families can't get to the office during the week, and the demand for legal immigration assistance is at an all time high.
To meet this demand, Davis has decided to open its doors 9:00 am to 5:00 pm on Saturdays.
"We are excited to extend our hours on Saturdays and make our staff available to serve the families and friends in our community that are in serious need of immigration help," said Garry Davis, owner and leading immigration attorney at Davis and Associates.
At Davis, the core mission is to provide the most competent US immigration and family law counsel at the best price. The core goal is to keep families together and business running effectively and efficiently.
With the core mission and goal in mind, Davis is inviting anyone needing family immigration council to visit the office Saturday, ask questions, meet our multi-lingual team and schedule a free consultation.
Consultation times fill up quickly so schedule in advance to reserve your time. However, guests without an appointment will also have the opportunity to speak with knowledgeable team members and receive important information.
Garry Davis received Board Certification in Immigration and Nationality law in 2005 by the Texas Board of Legal Specialization. He has been named Rising Star Super Lawyer 6 times by the Texas Monthly Magazine and one of the Best Lawyers in America 4 times by the US News and World Report.
Twice, Davis and Associates has been selected by World Report as one of the Best Law Firms in America. Garry has recently been a guest on local news channel 5 to explain the recent impact of government policy on DFW families.
Davis and Associates practice areas include: immigration law, family immigration, business immigration, visas and deportations.
[youtube https://www.youtube.com/watch?v=b8DFlR-fjao?rel=0&w=560&h=315]
Davis & Associates is the immigration law firm of choice in North Texas including Dallas, Fort Worth, Plano, Frisco, McKinney and surrounding areas. Their attorneys provide expert legal counsel for all aspects of immigration law, including deportation defense, writs of habeas corpus and mandamus, family-sponsored immigration, employment-sponsored immigration, investment immigration, employer compliance, temporary visas for work and college, permanent residence, naturalization, consular visa processing, waivers, and appeals. Attorney Garry L. Davis is Board Certified in Immigration and Nationality Law by the Texas Board of Legal Specialization.