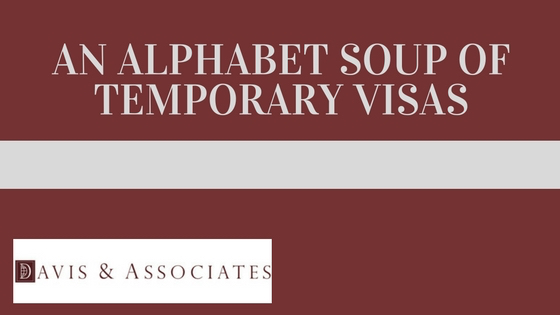 Visa Immigration Law: An Alphabet Soup of Temporary Visas
What is a visa?
When most people hear that word, they think it is a person's permission to be in a country.
Under U.S. immigration law, "visa" is a technical term that refers to a document stamped into a person's passport that allows the person to seek admission into the United States for a specific purpose.
Visas are obtained through the Department of State (DOS) at the various embassies, consulates and missions throughout the world. There is no U.S. Consulate inside U.S. borders, so a visa application can only be submitted outside the United States.
A person who holds a valid visa to the United States will present that visa at a U.S. land, sea or airport of entry to an officer of the Customs and Border Protection agency under the Department of Homeland Security (DHS), and legally request admission to the United States.
The visa type determines for what purpose the visa holder may seek admission to the United States. If the person is admitted to the United States, the inspecting officer provides the visa holder with "status" to remain in the United States for a specified purpose and generally for a specific period of time. Once the person has been admitted to the United States, the visa no longer matters as it is only an entry document – the status given at inspection governs the person's authorization to be in the United States.
If a person is seeking entry into the United States it is recommended to hire a visa immigration lawyer, like Davis & Associates, to assit in obtaining a particular visa type.
There are many types of visas for a person wishing to come to the United States to consider. The options can be found at 8 USC §1101(a)(15), codified in the Immigration and Nationality Act §101(a)(15).
The most common visa is the B classification visa, which is for visiting the United States. A person can seek a B-1 visa for business purposes, or a B-2 visa for tourism or pleasure travel to the United States.
Another common visa is the F-1 visa for a person to attend a post-high school educational institution.
J-1 visas are available for foreign exchange programs, such as students wishing to study in the United States as part of their high school experience, medical school graduates looking to enter a residency program in the United States, and international au pairs seeking placement with U.S. families.
If the person is part of a cultural exchange program, the Q-1 visa might serve for that purpose.
A person wishing to study in trade school – such as for flight school – can apply for an M-1 visa.
Those in transit through the United States or who serve as crew members on cruise ships or airlines apply for C and D visas.
Government and diplomatic employees from other countries can come to the United States on A and G visas.
Professional athletes and performing artists with a specific itinerary for performances or competitions can request P visas, while individuals with extraordinary ability in the arts, sciences, athletics, business or education can seek an O visa.
Some visas are petition based, meaning U.S. Citizenship and Immigration Services under DHS must first approve a petition filed by a sponsor or employer for the visa type before the potential employee can apply for the visa with DOS.
H visas are for employers to hire foreign workers, whether for professional positions (H-1B), registered nurses (H-1C), or for agricultural (H-2A) or other seasonal work (i.e., construction, landscaping – H-2B). L visas allow managers (L-1A), executives (L-1A) and highly skilled employees (L-1B) of an international company to be transferred to the United States to assume similar duties in a U.S. office.
Ministers and other religious professional and vocational occupation employees can be sponsored by their religious organizations to perform religious duties in the United States (R-1).
Other visa types are treaty based, meaning the United States must have a treaty with the person's country of nationality that allows for the specific visa type.
Visa hopefuls engaged or intending to engage in international trade between the United States and their country of nationality may apply for an E-1 treaty trader visa. Those who wish to invest a substantial amount into the U.S. economy for business development purposes may apply for an E-2 investor visa.
Potential employees from Mexico and Canada in certain occupations may apply for a TN visa to assume employment in the United States under the NAFTA.
Victims of crime also have visa options potentially available. The U visa is given to those who are victims of serious crime in the United States who are assisting in the law enforcement efforts against the perpetrator of the offense.
The T visa is similarly given to victims of trafficking.
And the S visa is available to those who provide valuable information to law enforcement officers as informants.
There are others, but these are the most commonly used visas to enter the United States. 
Garry L. Davis, managing attorney for Davis & Associates, a boutique immigration law firm, graduated from the University of Texas School of Law and Brigham Young University. Board certified in immigration and nationality law by the Texas Board of Legal Specialization, he has been selected as a Texas Super Lawyer and for Best Lawyers in America. He served the American Immigration Lawyers Association as the Dallas immigration court liaison and as program co-director for a Texas chapter CLE conference held in Mexico. He has frequently spoken on immigration issues by various organizations.
For more information, call us at 1 (800) 962-5286