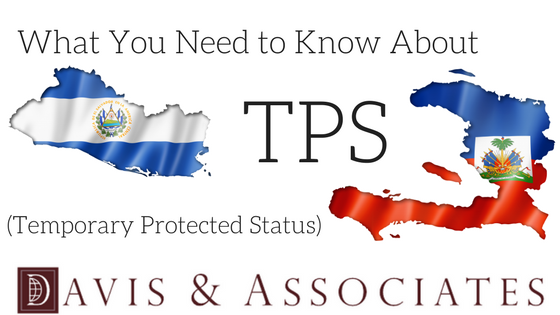 What You Need to Know About Temporary Protected Status (TPS)
Temporary Protected Status is designed by the United States Citizenship and Immigration Service (USCIS) to be a compassionate option for individuals from nations where conditions exist that may keep them from returning safely at a particular time. Alternatively, the home country may temporarily be unable to accommodate the safe return of the individuals.
The Department of Homeland Security makes an ongoing determination of which nations are in this category.
The nations that currently fall into the category of Temporary Protected Status are:
In each case, these nations are involved in either internal strife, civil war, or other dangerous circumstances that could threaten the safety of those nationals and foreigners who may be present.
Who Can Qualify for Temporary Protected Status?
Being a citizen of a nation that is designated with Temporary Protected Status does not necessarily guarantee that you may qualify. The rules and restrictions for determining any immigration/visitor status are always complicated, and representation by a qualified immigration law firm is usually the best route.
Temporary Protected Status is not automatic. To be eligible, the individual must submit an application that proves they had previously been continually residing in the country in question and have been in the United States since the time of departure from the country. Some temporary departures and returns from the United States during that time may be allowed.
However, it should be noted that applications for Temporary Protected Status may not be accepted if the applicant:
Has been convicted of a felony
Has committed two or more misdemeanors
Was found to be inadmissible as an immigrant
Has been determined to be ineligible for political asylum
Was not continuously present in the United States according to the prescribed limitations
Did not apply within the set time limits
Failed to re-register within the time limits
Application Requirements and Procedures
Application for Temporary Protected Status requires accurate completion of Form I-821. Additionally, Form I-765, Application for Employment Authorization, must also be completed whether you plan to work or not.
The application requires specific evidence of your circumstances.  When filing, expect to provide valid and documented proof of your nationality or country of habitual residence before arrival in the United States. You must also provide evidence of both entry and continuous residence within the United States.
For those who do not speak or write English, an English version of the application must accompany the applicant's version. The translator must provide proof of fluency in both languages. Usually, a qualified immigration attorney like Davis & Associates in Dallas is the best resource for accurate and credible translation.
Essential Evidence
For proof of original citizenship, primary documentation would consist of copies of a passport, birth certificate and photo identification, and other government-issued photograph or fingerprints that certify your citizenship in that country. If you do not have any such evidence, you must produce proof that you have made an effort to secure them and that the consular section was not in a position to respond.
If no primary evidence is available secondary proof may be accepted which may include:
Nationality documentation, even though it may not have a photo or fingerprints.
Baptismal certificates if it show you or your parent's nationality
School or medical records that show nationality
Immigration documents
Affidavits from friends or relations attesting to your nationality
Continuously Residing (CR) Evidence
Besides providing evidence of nationality, you must also prove that you have been consistently residing in the United States since entering. Proving continuous residence is accomplished by showing employment records, rent receipts and bills, school records, hospital records, or attestations from church or other organization officials.
Steps in the Application Process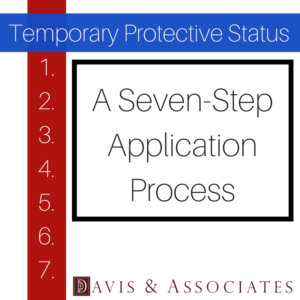 File your petition
USCIS reviews your application
USCIS contacts the applicant
Proceed to an Applicant Support Center
USCIS determines work eligibility
USCIS will adjudicate the claim to determine what additional information may be required. The organization may alternatively issue an Intent to Deny. In either case, you must respond immediately with any other support documentation. A reliable immigration attorney can best assist in the response.
USCIS approves or denies the application.
Working With a Professional Immigration Attorney in Dallas
The application process for achieving Temporary Protected Status can be complicated. The documentation must be well organized and the forms correctly completed. Inexact information can lead to immediate rejection.
Contact the experienced, award-winning immigration law firm in Dallas TX, Davis & Associates, to help guide you through the process. You may phone the multilingual professionals at David & Associates for a free consultation at 214.628.9888. Working with professionals increases the likelihood of acceptance and greater peace of mind.
About Davis & Associates:
Davis & Associates is the immigration law firm of choice in North Texas including Dallas, Fort Worth, Plano, Frisco, McKinney and surrounding areas. Their attorneys provide expert legal counsel for all aspects of immigration law, including deportation defense, writs of habeas corpus and mandamus, family-sponsored immigration, employment-sponsored immigration, investment immigration, employer compliance, temporary visas for work and college, permanent residence, naturalization, consular visa processing, waivers, and appeals. Attorney Garry L. Davis is Board Certified in Immigration and Nationality Law by the Texas Board of Legal Specialization.