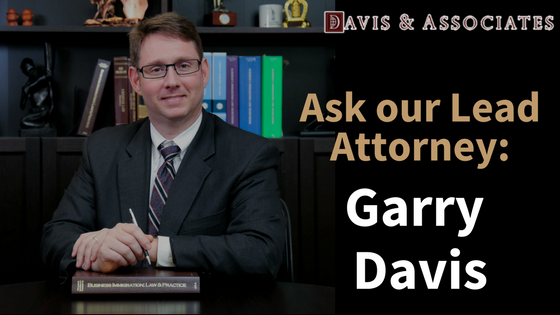 Ask Garry: Insight into President Trump's Immigration Policy
Recently, Davis & Associates' lead attorney, Garry Davis, wrote an article to be published by www.bestlawyers.com over president Trump's Immigration Policy. Read a copy of the article below:
---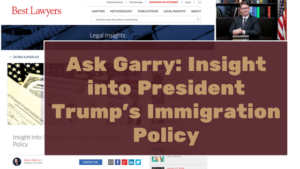 Since being sworn into office, President Trump has made significant changes to immigration law and policy in the U.S. Of particular note are the end of the Deferred Action for Childhood Arrivals (DACA) program and the institution of a travel ban for people from certain countries.
We'll start with the DACA program. Let's be honest: President Obama instituted the program for political reasons. After setting records for deportations from his inauguration to June 2012, he needed to do something to recapture the hearts of voters who were most affected by his enforcement-heavy approach. No one expected the tough immigration policy that came from the Obama administration, and he was at risk of losing a huge number of votes, particularly from the Latino community. Enter the DACA program.
In June 2012, he announced the DACA program and built it so that it would benefit a group of people who would be the least objectionable by political opponents. To qualify, a person had to come to the U.S. prior to age 16, had to be under age 31, had to be in the U.S. for five years prior to the institution of the program, must have been serving the U.S. military, enrolled in school, or a high school graduate/GED certificate, and had no significant criminal record. The person would then receive protection from deportation and a work authorization for two years, and it was renewable.
The program benefited about 800,000 people, allowing them to work legally, to further their personal development goals, and to feel like they were part of a country they had grown up in. For many of them, this is the only country they have ever known. It was a brilliant political move and benefited a lot of good people who were paying the price for someone else's choice to bring them here as children.
President Trump has ended the program.
The justification is that it was an overreach of executive authority by President Obama and an illegal amnesty. The problem with these justifications is that neither is true.
The president has always had—and continues to have—the legal authority from Congress to grant deferred action status to an illegal immigrant in his or her discretion. All President Obama did was formalize what had always been an informal process of requesting deferred action and limiting it to a class of individuals who met certain requirements. We have always been able to—and still can—request deferred action from the Department of Homeland Security authorities.
And it was not an amnesty as we've come to use that term in the U.S. "Amnesty" in the U.S. immigration law context implies forgiveness for past immigration violations and permanent legal status. Amnesty is what happened under President Reagan in the 1980s that led to the legalization of hundreds of thousands of illegal immigrants with the stroke of a pen.
DACA was never that. It had no pathway to permanent legal status in the U.S. 
The president has also stated that doing this will force Congress to take action to address the situation for those who availed themselves of the DACA program and its benefits. Considering the fact that we are still working with a 1952 statute to manage our immigration law and policy, I agree a change is way overdue. Maybe this will be the impetus for that change, whatever that may be.
The president has also instituted a travel ban for people from several countries in the Middle East, notably Syria and Iran, as well as North Korea and Venezuela. Basically, the ban bars many people from those countries from obtaining visas to come to the U.S. The stated justification is that the current system does not have adequate review and vetting procedures to ensure the safety of Americans. This statement is ridiculous. There is already an "extreme vetting" background investigation into each visa application, including a face-to-face interview and extensive security clearances.
Each of these changes indicates a significantly more restrictive approach than what the country became accustomed to under President Obama's second term. We'll see how President Trump plans to handle the potential political backlash when it comes time for him to seek reelection.
About the Author:
Garry Davis is the founder of Davis & Associates, an exclusive immigration law practice in Texas. A graduate of the University of Texas School of Law, he is board certified in immigration and nationality law by the Texas Board of Legal Specialization.
---
To see the article in its entirety, click here.
About Davis & Associates:
Davis & Associates is the immigration law firm of choice in North Texas including Dallas, Fort Worth, Plano, Frisco, McKinney and surrounding areas. Their attorneys provide expert legal counsel for all aspects of immigration law, including deportation defense, writs of habeas corpus and mandamus, family-sponsored immigration, employment-sponsored immigration, investment immigration, employer compliance, temporary visas for work and college, permanent residence, naturalization, consular visa processing, waivers, and appeals. Attorney Garry L. Davis is Board Certified in Immigration and Nationality Law by the Texas Board of Legal Specialization.