Military Spouse Guide: How to Get a Green Card
For those serving in the United States military, it is not uncommon to find true love while stationed abroad. A long period overseas is plenty of time to meet a romantic partner, start a long-term relationship, and even get married. But what if you want to bring your new husband or wife back to the United States in order to start a new life?
If the person you have married is a non-US citizen, you will need to obtain a marriage green card for your military spouse. This will allow your loved one to live and work in the USA, with an aim to achieving US citizenship in the future.
If you are looking to obtain a military green card for a spouse who is a foreign citizen, the following article will walk you through the application process and the eligibility criteria.
Military Green Card Eligibility Requirements
You need to make sure that you and your spouse qualify for a military green card. Once you have married your partner, you will both need to meet certain requirements in order to be eligible for a green card.
The requirements for the sponsoring spouse on active duty:
Be a permanent resident of the United States, either as a US citizen or green card holder.
Earn the minimum required income for your household size.
Accept financial responsibility for your spouse.
Must not have committed certain crimes or offenses.
The requirements for the spouse seeking a green card:
Must be able to prove identity and nationality.
Must not have committed certain types of crime or immigration violations.
The requirements for both spouses:
Must be able to demonstrate the authenticity of the marriage.
Must prove termination of previous marriages, if applicable.
Must submit any supporting documentation, including military service records.
The Application Process for a Military Green Card
Before initiating the green card process, it's essential you know which route to take. There are a number of different procedures depending on your status.
If you and your spouse both live in the United States, you will need to file an Adjustment of Status. Whereas if your spouse lives abroad, they will need to go through Consular Processing, applying through a US consulate or embassy.
There are four main steps to the military green card application process.
Step 1: Establish the validity of the marriage. This may require documents such as a marriage certificate, bank statements, insurance documents, and photographs.
Step 2: Apply for the green card through the appropriate channel and provide proof that financial criteria are met.
Step 3: Attend an interview to evaluate the authenticity of your marriage. This will either take place at a local USCIS office or, if abroad, a US consulate.
Step 4: Await approval.
Next Steps
Once you have applied for your green card and attended the interview, you will need to wait for final approval. When you have been approved, the physical green card should arrive within three weeks.
The specific type of green card you receive will depend on how long you have been married. If less than two years, you will receive a conditional CR1 green card that expires in two years. At the end of this time, you and your spouse will need to attend another interview to re-authenticate the marriage. If you have been married more than two years, you will receive a permanent green card that is valid for ten years and is simple to renew.
If your spouse wishes to apply for US citizenship, they can do so in three. It may be possible to obtain expedited naturalization if your spouse is stationed abroad and you meet certain eligibility requirements.
Frequently Asked Questions
Can my spouse get expedited naturalization because I am in the military?
Yes, if you are a U.S. citizen service member stationed outside the United States, your spouse may be eligible for expedited naturalization through section 319(b) of the Immigration and Nationality Act (INA). To apply for naturalization, your spouse will need to be 18 years or older, authorized to accompany you abroad by your official orders, and currently present in the United States as a lawful permanent resident. At the time of application, they will also declare in good faith that you intend to reside abroad with you and then return to live in the US once your service abroad is terminated.
After meeting all these requirements, your application will be processed quickly so that you can obtain citizenship as soon as possible. In addition, there are ways for military spouses to be naturalized oversees if they have been a lawful permanent resident for at least 3 years.
How do you access your military service records?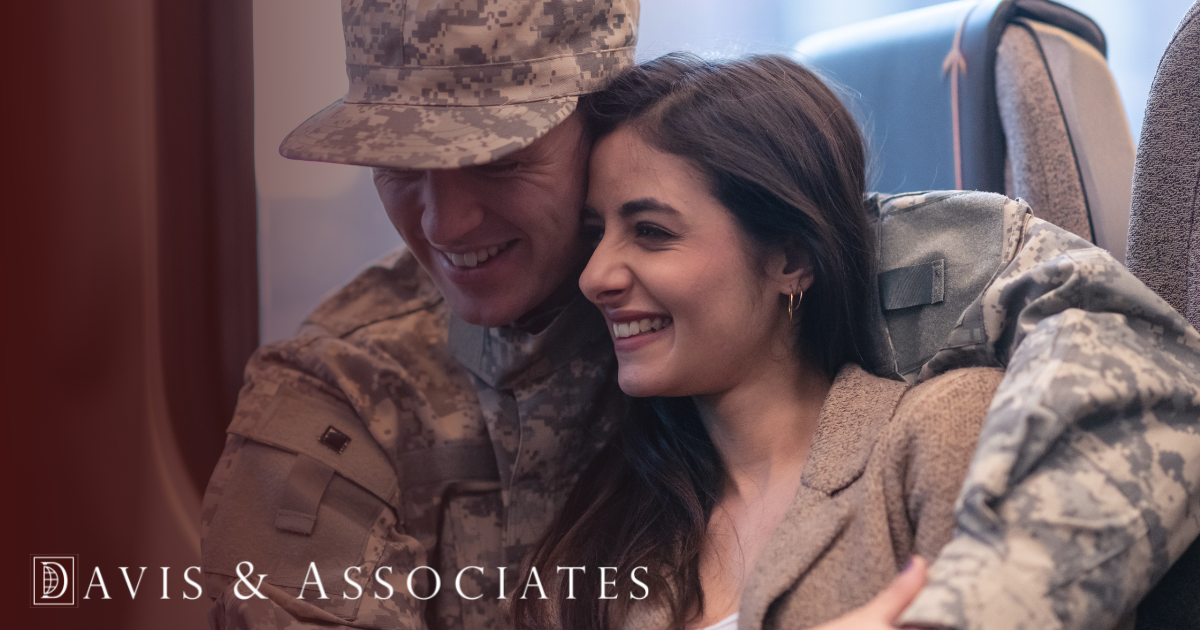 In order to qualify for a military green card, the sponsoring spouse in active duty will need to provide documentation to confirm their military service. The process for obtaining your military service records will depend on the part of the world in which you served.
If you served in the US armed forces, you can request your records online from the National Personnel Records Center, Military Personnel Records (NPRC-MPR). If you served in a country other than the United States, you will need to request your records from the appropriate government agency. You can find out the relevant information for each country on the US Department of State website.
How long does the process take?
It can take between 10 and 38 months to receive your green card after you begin the application process. If you receive Permanent Change of Station orders or are deploying soon, you may be able to request expedited green card processing, however, USCIS does not guarantee this service.
How much does a military green card cost?
Depending on where you live, you can expect to pay between $1200 and $1760 for the application process. You will also need to undertake a medical examination, which costs between $100 and $500.
Do You Need Help Obtaining a Green Card For Your Military Spouse?
Davis and Associates knows the complexities and challenges of navigating the green card process for military spouses. Whether it's helping to gather required documents or handling discrepancies between U.S. federal law and military regulations, we understand the process inside and out, so you don't have to worry about tackling it alone.
With Davis and Associates on your side, you can feel confident that any problems related to obtaining a green card will be solved quickly and effectively – no matter where in the world you are serving our country. Contact us today for a free consultation.
---
About Davis & Associates:
Davis & Associates is the immigration law firm of choice in Houston & North Texas including Dallas, Fort Worth, Plano, Frisco, McKinney and surrounding areas. Their attorneys provide expert legal counsel for all aspects of immigration law, including deportation defense, writs of habeas corpus and mandamus, family-sponsored immigration, employment-sponsored immigration, investment immigration, employer compliance, temporary visas for work and college, permanent residence, naturalization, consular visa processing, waivers, and appeals. Attorney Garry L. Davis is Board Certified in Immigration and Nationality Law by the Texas Board of Legal Specialization.
Dallas Contact Info:                                                                                                                                                                                             
Address: 17750 Preston Road Dallas, TX 75252                          
Phone: (469)957-0508                                                                       
Houston Contact Info:                                                                                                                                                        Address: 6220 Westpark Dr, Suite 110, Houston, TX 77057
Phone: (832) 742-0066